About
Earwax Productions is dedicated to creating the most engaging audio experience possible, across all media.
We design sound for film, television, the Internet, radio, as well as audio for tours, installations, toys and electronics.
Our projects range from major Hollywood features to mobile apps and animation to interactive museum installations.
Serving the San Francisco Bay Area for nearly forty years, Earwax Productions has worked with local playwrights, filmmakers, artists and inventors. Beyond San Francisco, we have had the privilege to help produce film soundtracks, radio, museum installations, teach and lecture in Helsinki, Dublin, and Johannesburg.
For an overview of our capabilities, click SERVICES >>
To take a dive into the genesis of Earwax, click HISTORY>>
Earwax: Surrounded in sound and its possibilities since 1983
Earwax began as a group of composers, electronic musicians and journalists back in 1983. Among the initial consortium were Barney Jones, Jean-François Denis, Markos Kounalakis, Jim McKee, Andrew Newell and Bob Davis. Much of the group studied at Mills College Center for Contemporary Music, working in creative aspects of recording and found a niche providing sound design to local Bay Area Theater companies such as Antenna Theater, Magic Theater, SOON3, Eureka and One Act Theatre Company among others. Click here for a deeper look into the history of Earwax. HISTORY>>
Jim Mckee
Jim is the owner of Earwax Productions, which he co-founded in 1983. He has worked on major motion pictures, festival-winning independent films, documentaries, as well as popular IMAX productions. He is a leading force in making our increasingly digital and electronic world friendlier and more intuitive. Jim has been at the forefront of major changes in sound technology, helping to keep audio standards high across all media. His resume includes the sound design for artist Ai Weiwei's groundbreaking installation on Alcatraz, @Large to the familiar sonic brands and audio user interface with Apple, Facebook, Belkin, Logitech and Pinterest. Since 2007 he has mixed feature DVD/Blu-ray feature compilations for Pixar/Disney. Jim received his Master of Fine Arts from The Center for Contemporary Music at Mills College in Oakland, California and his Bachelor of Music Education from Shenandoah Conservatory of Music in Virginia.
Jim was featured on an episode of the popular public radio show and podcast, 99% Invisible, discussing how he creates organic sounds for electronic devices. LISTEN HERE>>
Sound designer, composer, engineer, mentor, producer
As a sound designer, composer, engineer and technical producer, Jim works with computers, samplers, digital recorders and tape, using concrete sound elements and the human voice to build sound environments that are at once familiar and exciting. Works are generally designed in collaboration with film producers, playwrights, radio producers, and performance artists and a wide variety of studio processing techniques. His experience includes mixing, engineering and sound design for theater, national broadcast television, radio, commercial and drama, research and production for interactive media. Radio credits include; Locations for Bay Area Radio Drama, Lost and Found Sound for National Public Radio's All Things Considered, as well as feature programs for Radio Atelier Finnish Broadcasting, New American Radio, Soundprint, Third Coast Festival and PRI. Feature film credits include; Cast Away, Final Fantasy, IMAX films Whales and Yellowstone for Destination Cinema, Bram Stoker's Dracula and The Secret Garden with American Zoetrope and his latest Banshee Blacktop with director Sean Garland. In addition to his feature film credits IMDB, Jim designs, mixes and composes original music with film artists, Chip Lord, Ilppo Pohjola and Doug Hall
Teaching, Lectures & Workshops
Jim is currently a visiting professor at San Francisco Art Institute, where he teaches Advanced Sound Design and Soundscapes. He has lectured at YLE Radio in Helsinki Finland, National Federation of Community Broadcasters, The Institute for the Advancement of Journalism in South Africa, Western Public Radio, San Francisco State, RTÉ Radio Ireland, CCA in Oakland, Kansas City Art Institute and The College for Recording Arts.  Jim is available as a guest lecturer and speaker.  Jim is available as a guest lecturer and speaker.
Awards
Earwax Productions enjoys the reputation of having been voted best sound design team in San Francisco. Earwax has also won honors in The Bay Area Critics Circle awards, Northern California Broadcasters, Association of Independents in Radio, grants from the National Endowment for the Arts and the Academy Award for Francis Ford Coppola's production of Bram Stoker's Dracula, for which Jim contributed design concepts and sound effects along with the sound team of Columbia Pictures and American Zoetrope.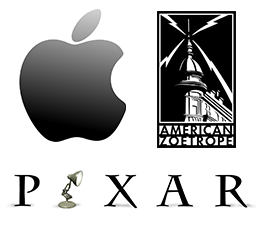 Collaborators
Earwax has collaborated with full range of clients including early multi-media development with Apple Computer Multimedia Lab, Advanced Technology Group, Pixar and Wild Brain, Internet development with Macromedia and environmental efforts with Alameda Waste Management, Underground* and Racing to Zero.